Master chef Tom Victor Gausdal puts the finishing touches on the day's task in the small kitchen of the Oslo Botanical Garden Cafe. The order was a meal that must contain coarse grains, dairy products, fish and vegetables.
The task is to create a modern and updated version of Oslo's breakfast, which the capital's children received free of charge every day from the 1930s to 1963.
– We know that young people consume less wholemeal bread and cereal products, fruits and vegetables, and fish and seafood than recommended by nutritional guidelines. These are also the three very central ingredients of the Oslo breakfast, says SIFO researcher and project manager Annechen Bahr Bugge.
He firmly believes that Oslo breakfast can inspire the school meals of today's children and youth.
"Give your jaws and teeth a powerful job"
"We got square slices of bread with toppings. If there was brown cheese, it was fine, but I've never liked caviar. A piece of carrot or apple was the best. We ate in the dining room, Bessa, in the basement, and the ladies in white went around and made sure everyone ate.
A 70-year-old man delves deep into his memories as a kid at Nordstrand School. The meal was part of everyday life for everyone who grew up in Oslo from the 1930s, staying only during the war years.
Oslo breakfast
The Oslo breakfast was a free school meal that was introduced in many schools in Oslo in 1929 and was offered to all schoolchildren in the city from 1935. Some other municipalities also adopted the system.
Oslo's breakfast consisted of up to half a liter of milk, two small kneipp kavrings or flatbread with margarine and cottage cheese, thick kneipp bread with margarine and toppings such as cheese and cod liver pate, half an apple or half an orange (or 100 grams of carrot or turnip) and a teaspoon of cod liver oil every day during the winter months.
The requirements were that the food should contain plenty of nutrients, supply the body with "all known vitamins" and finally "give powerful work to the jaws and teeth".
Source: The Great Norwegian Lexicon
Why was the Oslo Breakfast so successful?
It started when doctor Carl Schiøtz, who was the head of Oslo's school health service from 1918 to 1932, saw that the food served in schools at the time – a warm meal in the middle of the day – did not meet nutritional standards. of the time.
At that time, they had recently discovered vitamins and Schiøtz was a big vitamin enthusiast.
He also thought that the cooked food looked like an unappetizing slurry, fit for nothing but to feed a hungry mouth.
So says cultural historian Inger Johanne Lyngø, who has both researched and written about the special meal.
– Schiøtz used to take a marginal meal, i.e. breakfast, and call it the most important of the day. Second, he made school meals available to all, not a measure for the few. He says the goal was to elevate school meals from helping the poor and charity to preventive health work.
Lyngø describes Oslo's breakfast as glorious in all its simplicity. It was a completely new type of meal and spread across the country through campaigns.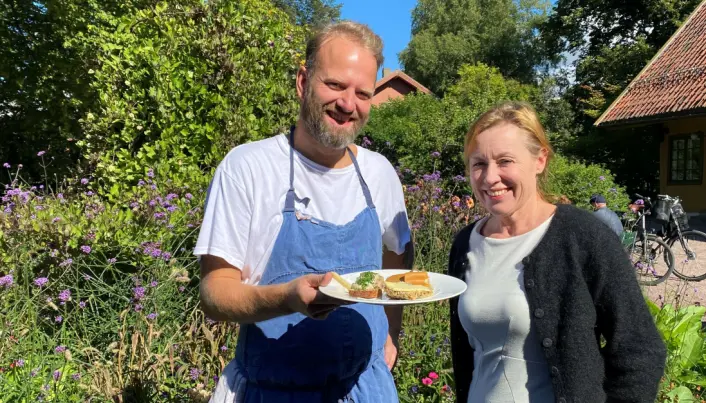 – In which city is an entire meal named after it?
– When Inger Johanne came up with the idea to serve an updated version of the Oslo breakfast at our food heritage conference, she exclaimed: "Yes, what city has an entire meal named after it, of course it's Oslo – the famous Oslo breakfast."
So says Annechen Bahr Bugge, project manager of the FoodLessons research project. It is about reviving old techniques, raw materials and dishes that can be used today in product and business development and value creation.
They recently had a conference in Oslo about the history of food.
– I was immediately struck by this thought. This was fully in line with the aims of FoodLessons, which is to present our diverse food culture in an exciting and innovative way, as well as to stimulate a better interaction between tradition and new impulses, says Bugge.
– To begin our exploration of ways to renew Oslo's breakfast, we engaged Bocuse d'Or award-winning chef Tom Victor Gausdal and his team to create a lunch inspired by this famous breakfast, an innovative meal of its time.
From school morning to lunch
Not all municipalities could offer free meals to students. In Sigda, the district doctor made sure to bring homes, so the children brought whole grain bread, while the school distributed milk and fruit.
This model returned to Oslo, where in the 1960s the school breakfast became a common meal eaten by students in the middle of the day.
So there is a direct line from breakfast in Oslo to lunch today.
If Bugge and the project group want to revive Oslo's breakfast, then with the eating habits and nutrition of children and young people in mind. Bugge has done a lot of research on young people and eating habits and is a big believer in a revived version of the Oslo breakfast.
Young people want to eat healthy and cheap
– At the top of the project group's wish list is not a hot dinner-like meal served at school – they want more fresh, fresh salads, vegetables, bread and cereals. They want to eat healthy and cheap, he says.
He makes a proposal based on breakfast in Oslo.
– Oslo breakfast, served free or on demand, does not require a decentralized kitchen or large staff in schools. Instead, different versions of Oslo breakfast can be ordered, packed in nice and aesthetically pleasing packaging, kept cool and served fresh and fresh for lunch.
– So I'm thinking a bit of logistics, à la food boxes, online grocery stores and takeaways. Preferably associated with apps, materials or movies that can contribute to learning, reflection and entertainment, suggests Bugge.
Fried bread, bökling pate and sauerkraut
Back in Tom Victor Gausdal's kitchen, we see the result. There are trays of home-baked shortbread with brown cheese and thick rolls with yellow cheese and a delicious slice of bread with beech pate and chives.
– We would like to make something that people actually want to eat and children eat and they like bread, comments the chef.
The meal also included fresh kohlrabi on sticks, just like in the old days. All this was served to the guinea pigs, i.e. conference participants from around the world, together with school milk in small cartons, exactly the kind that school students can order.
Food parcel advice from information offices
– When preparing a modern Oslo breakfast, we follow the nutritional advice of health institutions, whether it is packed from home or served at school. School meals should provide energy for a long day of activities and learning. Then it is important that it is both good and healthy, says Torunn Nordbø at the Bread and Cereal Information Office.
The Agricultural Information Offices were involved in the planning of the Oslo breakfast for the conference lunch and are partners in the FoodLessons project.
– Our school meal proposals have the same elements as the Oslo breakfast – namely whole grains, protein-rich toppings, vegetables and milk, but adapted to today's choice and student preferences, says Nordbø.
To level economic and social differences
From Hurdals' platform we can read that the goal of the Støre government is to "gradually introduce daily healthy simple school meals and daily physical activity in schools, allowing schools to organize it themselves".
The aim is to promote public health in Norway by equalizing economic and social differences.
– Maybe our experiment with a modified version of the Oslo breakfast can be an inspiration, says Bugge.
– The most important thing, as I see it as wisdom in hindsight, was that Schiøtz showed care for all parts of the food. Food should not necessarily be the cheapest, but the best for children's health. Whole grain bread and milk are foods worth passing on, says Lyngø.
Tips for good school meals
The information offices recommend coarse cereal products, protein-rich spreads, fruits and vegetables and milk to drink, in order to have a good combination of nutrients and enough energy until the end of the school day.
The easiest option is sandwiches made from good, thick bread served in a box with lean meat, cheese, fish or egg, along with chopped vegetables and school milk.
Buttered bread can be varied, for example, with a salad with barley groats, beans, nuts and eggs, or with oatmeal made with milk, carrots and apples.
See more lunch break tips at brodogkorn.no
References:
Annechen Bahr Bugge: Breakfast in Oslo. Article in norske lexikon (snl.no)
Inger Johanne Lyngø: Oslo breakfast: optimal nutrition in one meal: for the scientific recognition of everyday life with food. Ethnologia scandinavica: Journal of Nordic Ethnology, 1998. Summary.
Facts about the project
The FoodLessons project is subtitled: "Culinary heritage as a resource in building Food Nation Norway 2030". The project runs from 2021 to 2024 and is funded by the Research Funds for the Agriculture and Food Industry (FFL/JA) through the Research Council of Norway. Annechen Bahr Bugge is the project manager.