VERTICAL AGRICULTURE
MOSS: Year-round indoor cultivation of lettuce, herbs and berries close to the consumer market is spreading around the world. Now the concept is also in full swing at Onna Greens in Moss, Norway.

A quick trip after the E6 exit in Mosseporten, we reach the Vanemskogen business park. Warehouse companies are located close together within the business park. Since the stone wool manufacturer Rockwool's warehouse of finished products and the 3PL warehouse of Best Global Logistics are close neighbors, we park in a gray and relatively anonymous warehouse, where 17 employees work. Here, the owners of Onna Greens are laying the foundation for a green revolution in Norwegian food production.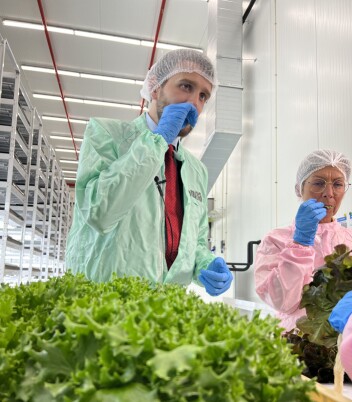 Hydroponics and vertical farming
Hydroponic farming has been around for thousands of years. The concept involves growing plants directly in water without using soil. Give the seeds light, heat, circulating water that gives access to fresh nutrition, and plants will grow at least as well in water as in soil.
Simple hydroponic solutions for home use can be purchased for cheap pennies at your nearest garden store. But what Onna Greens has started in Moss, following our expertise as the first player in Norway, is hydroponic cultivation on an industrial scale. Since in this kind of production process, you want to make optimal use of the floor space by growing crops on several floors, the production process is often called vertical farming.
Lower water consumption than traditional growing in potting soil, as well as the fact that you can artificially create the ideal growing climate regardless of the season, means that hydroponic cultivation is being highlighted as a good addition to the more sustainable development of food production. Currently, salad, herbs and berries have proven to be economically sustainable.
Crisp salad in Odas from April
Independence in the readiness perspective
At a time characterized by international unrest and supply problems in several sectors, self-sufficiency and preparedness have become the order of the day. In this perspective, Industry Minister Jan Christian Vestre believes that vertical farming can be a good bet to reduce dependence on operators outside Norway's borders.
– You must always think about preparedness and plan for the unexpected. We have learned about it now during the pandemic and the war, Minister of Enterprise Onna said during a visit to the Greens.
The technology, which includes, among other things, specially developed LED lights that stimulate good plant growth and a ventilation system that ensures optimal temperature and humidity, opens up a wide range of product types to grow in the production building.
As of today, only one product has entered the store shelves, or more precisely, the online shopping cart. Crispisalat was added to the Oda product range in April and replaces the previously imported Crisp. Today's production unit is capable of growing approximately 350 tons of lettuce per year, or nearly one ton of lettuce per day.
Are Andenæs Huser, one of the founders of Onna Greens and today the chairman of the company's board, hastened to add that such an indicator is mostly of theoretical interest.
– The volume of 350 tons applies to lettuce and when the production is fully utilized. There is still a long way to go. As mentioned, we have just now entered the Oda product range and hope to reach even more distribution channels. We are also in a phase where we are testing several different product types. In our industry, for example, basil isn't just "basil," there's a wide variety of different varieties. Same with salads and berries. There are many options and we need to see which products give the best returns and which ones have a market and demand. We just have to evaluate what makes sense for the business to grow, he said.
MORE ABOUT VERTICAL FARMING:
Now warehouse robots are becoming urban farmers
SHORT TRAVEL AND AUTOMATION: Warehouse automation systems can become central to securing food production with urban and indoor agriculture.
The Minister of Industry inspired
Minister of Industry Jan Christian Vestre was also present during MT's visit. The minister was impressed by what he saw and heard – and what he tasted.
– It was incredibly good and "crispy", he said during the obligatory tasting.
Since the lettuce leaves are only handled in a near-sterile environment and have not been left in the soil or exposed to pesticides, they also do not need to be soaked in water before serving – thus avoiding "washing".
A supplement to the farmer – not a replacement
The concept of vertical farming goes hand in hand with the mindset of sustainable food production. Where you can produce food close to the consumer, in an energy-efficient area and without the use of pesticides. But both the Minister of Business and Industry and Huser are quite clear that the issue is neither traditional nor vertical agriculture, but both.
READ ALSO:
Sees growth potential in long-term investments
– Traditional agriculture is very important. The agricultural settlement showed that we value the Norwegian farmer and help create good conditions for the industry, but I certainly see a place for players like Onna Greens and this type of vertical farming, which I see here in Moss as a good addition to our agriculture. has been before. It is no less exciting if we can produce things in Norway that we would otherwise import, said Vestre.
Strawberries produced in Norway in the middle of winter?
– Yes, we agree with the minister. We do not see ourselves as a challenger to the Norwegian farmer, rather a foreign one. Initially, we have targeted large import volumes. most of the lettuce and herbs consumed in Norway are imported goods with long transport routes. From a sustainability perspective, we see an advantage in moving some of these volumes to us. And part of the year there are also products that are not produced in Norway at all, said Huser.
If we get to the point that Onna will also invest in strawberries produced in Norway in the middle of winter, she cannot guarantee.
– But it is natural that we also take a closer look at the berry market, and in this sense, strawberries are a good alternative to test whether we can get sustainable economic production from them, said Huser.