Now we are moving towards warmer days and then it can be delicious and refreshing to replace a heavy dinner with something light and fresh.

Therefore, in the future I will come up with some suggestions for good and filling salads. It is a colorful and tasty salad that is equally suitable for lunch and dinner alone or as a side dish to a meat dish to add more fruits and vegetables to meals.
If you have an extra orange left over after Easter, this is a great way to use it up in a lovely salad. Not only is lettuce a good choice for green supplements, but it's also an excellent source of fiber, protein and vitamins, as well as a number of essential nutrients.
For the salad, I have caramelized walnuts and made a dressing consisting of a mixture of feta cheese, natural yogurt, fresh parsley and a squeeze of orange juice. The vegetables below are just suggestions, so feel free to use whichever vegetables you like best.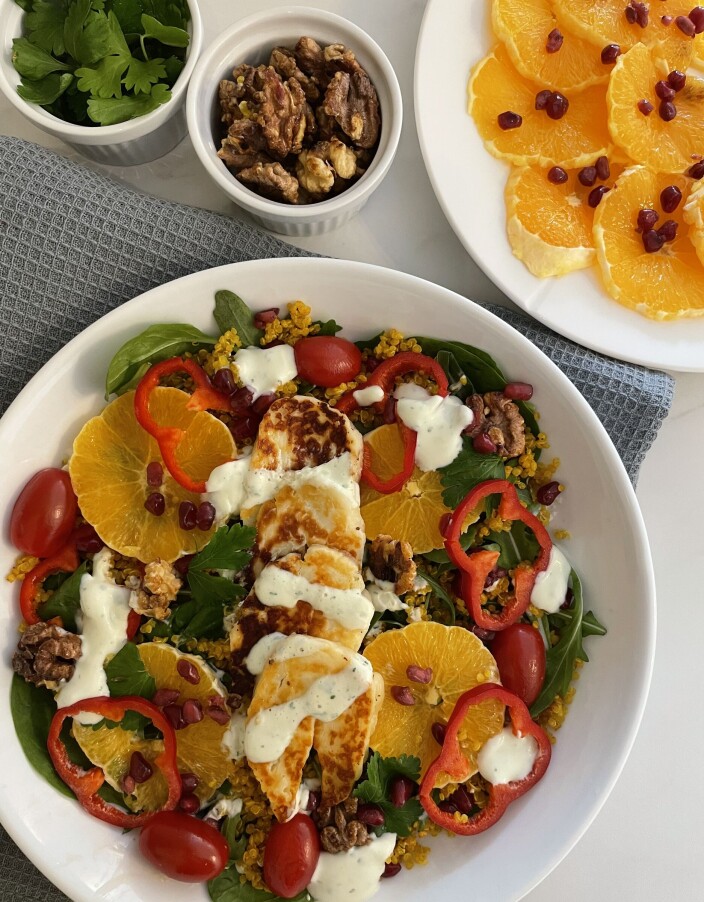 Preparation: about 20 minutes
The recipe calls for 2 portions for the main meal: 1 dl quinoa, 2 dl water, 1 tsp turmeric and paprika spice (can be omitted), a little salt and pepper, approx. 150 – 200 g of salad, 1 paprika, approx. 2 handfuls of cherry tomatoes, 1 orange, 1 piece of halloumi. As an additional topping: ½-1 pomegranate seeds.
Caramelized walnuts: 3 handfuls of walnuts and 2 teaspoons of sugar
Sauce: 100 g of feta cheese, 3 tablespoons of natural yogurt, 1 tablespoon of fresh parsley, a little pepper
This can be done as follows.

Start by measuring the water and quinoa and pour it into the pot. If desired, add turmeric and paprika powder for a nice yellow color and a little salt and pepper. Simmer under the lid on low heat for 15 minutes.
In the meantime, you can make the caramelized walnuts and make the sauce: Find a pan and add the walnuts. Turn the heat to medium and swirl the walnuts around until they start to warm. Add 2 teaspoons of sugar and stir until the sugar has dissolved. When done, set the walnuts aside.
It is good to use a small blender for the sauce or a stick mixer. Mix together the feta cheese, yogurt, fresh parsley (or seasonings) and mix into a smooth sauce. Season with the juice of a few oranges and a little pepper.
Chop the tomato and pepper and prepare the salad, as well as peel the orange and cut it into slices. Cut the halloumi into slices and fry in a pan on a medium to high heat (no oil/butter) until they have a nice golden crust on both sides.
Tip: Halloumi can also be placed directly on the grill! Then all you have to do is add all the ingredients to the salad bowl. Spread the pomegranate seeds on top.
Hope you like it!