dishes with rhubarb
Flavor bombs with rhubarb
Sour and fresh rhubarb goes well with both savory and sweet dishes. Try one of these delightful recipes with the season's most surprising flavor bomb.

Rhubarb crumble with coconut
6 people
600 g of rhubarb
100 g of sugar
seeds from 1 vanilla pod or 2 tsp. vanilla sugar
Crush:
125 g of butter
100 g wheat flour
50 g of coconut flour
150 g of sugar
Accessories: vanilla ice cream
1. Clean the rhubarb and cut into 1 cm thick slices. Spread them in a greased baking dish.
Mix the sugar and vanilla and sprinkle over the rhubarb. If necessary, leave covered for a few hours in the refrigerator.
2. Crumble: Crumble butter in wheat flour, coconut flour and sugar until it is like grated cheese. Sprinkle it over the rhubarb
3. Bake a cake of 200 gr. about. 40 min. Serve warm or cold with vanilla ice cream.
Read also: Rhubarb: No, it is not true that it must be eaten before Midsummer
Lamb chops with rhubarb chutney
4 servings
800 g lamb chops
salt and pepper
butter and oil for frying
2 cloves of garlic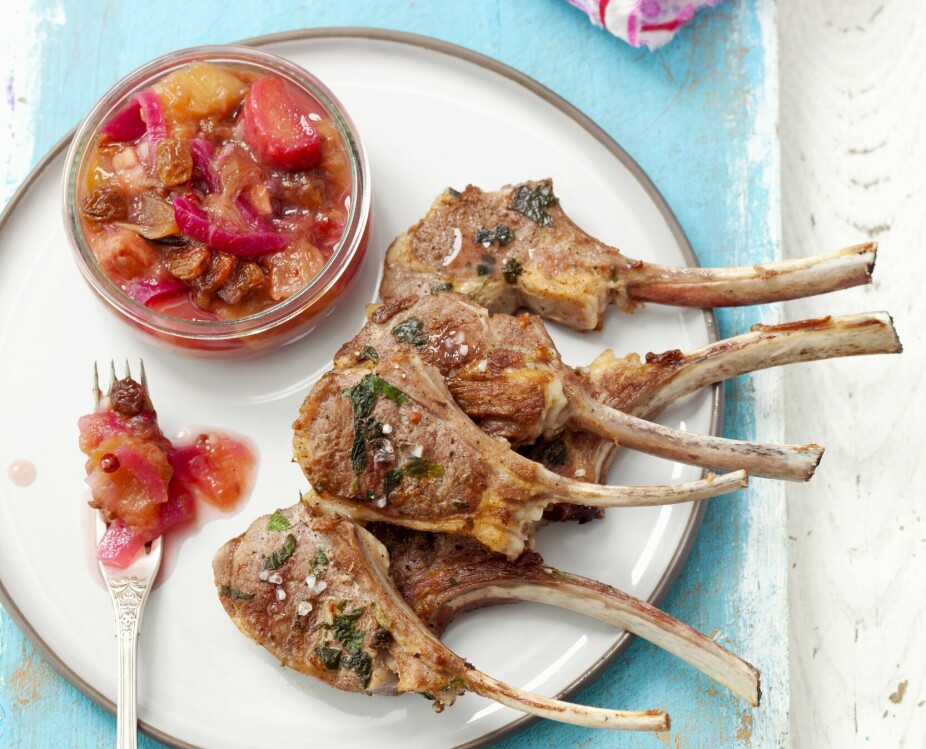 fresh rosemary
Rhubarb Chutney:
500 g of rhubarb
2 red onions
½ cup vinegar, 7%
1 DL of water
1 dl raisins
4 dl of sugar
1 teaspoon ground ginger
½ tsp ground cloves
1 teaspoon of whole pink pepper
Rinse the rhubarb and cut into pieces. Peel the onion and cut into slices. Place the rhubarb, onion, vinegar, water and raisins in a saucepan and bring to a boil. Simmer covered for 10 minutes. Stir in the sugar and spices and cook until the chutney thickens, approx. 30 minutes. Transfer to a glass, cover and chill.
Season the meat with salt and pepper and fry butter, oil, finely chopped garlic and
rosemary, 2-3 minutes on each side. Let it rest in the pan for 6-8 minutes before serving. Serve the lamb cutlets with rhubarb chutney and preferably with fried potatoes or a creamy potato salad.
Read also: Three wonderful recipes with rhubarb
Rhubarb juice
about. 5 liters
3 kg of rhubarb
2 lemons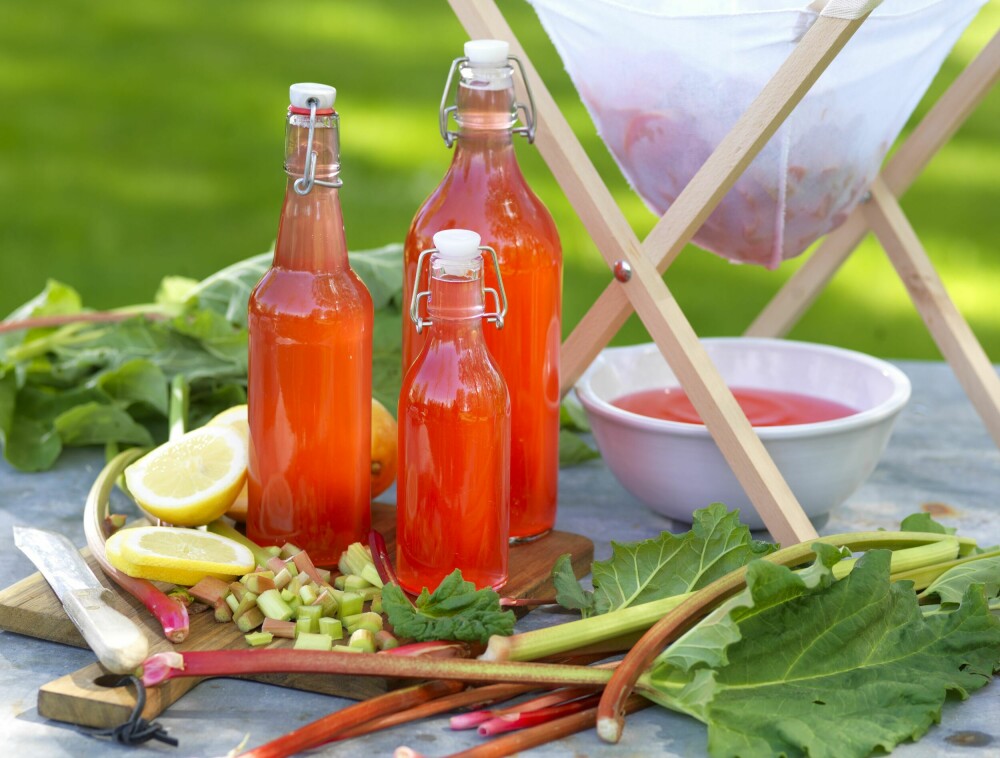 50 g of citric acid
4 l boiled, cooled water
500 g of sugar per liter of juice
Wash and clean the rhubarb, no need to peel it. Cut into pieces. Wash the lemons and cut them into slices. Put the rhubarb and lemon in a ten liter jug ​​or bucket. Dissolve the citric acid in a little water and mix with the remaining water.
Pour water into a pitcher/bucket and cover. Let cool for 2-3 days. Strain the juice. Measure out the juice (about 3 1/2 liters) and add sugar, 500 g per liter. Stir until the sugar is dissolved. Pour the juice into sterilized bottles and keep cool. You can also freeze the juice.
Rhubarb Tart
8 servings
150 g of butter
225 g wheat flour
3 tablespoons of sugar
2 egg yolks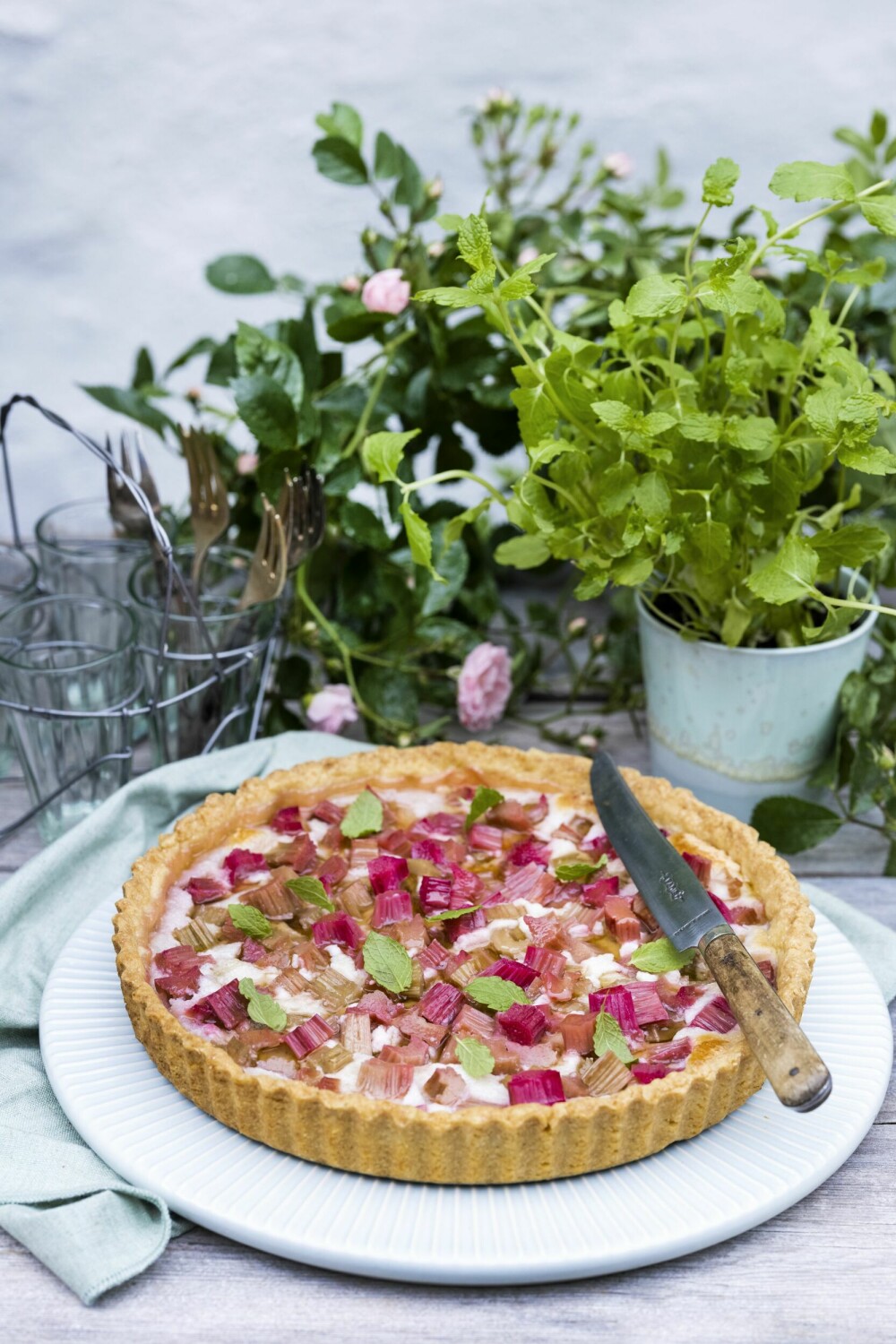 Fill:
400 g of rhubarb stems
6 tablespoons of sugar
2 egg whites
200 g of marzipan
½ vanilla pod, possibly 1 teaspoon of vanilla sugar
2 tablespoons of sugar
To serve:
powdered sugar
mint leaves
whipped cream
Crumble the butter into the flour. Knead in the sugar and egg yolk to form a combined dough. Cover with plastic wrap and leave to cool in the refrigerator for at least 30 minutes.
Preheat the oven to 175°. Roll out the dough on a floured board and line the pie tin,
about. 26 cm in diameter, with dough. Feel free to put the mold in the freezer for a while while you prepare the filling. Cut the rhubarb into ½ cm pieces. Put them in a bowl with 2 tablespoons of sugar and let them soak for a few minutes.
Beat the egg whites until stiff, add 4 tablespoons of sugar while beating and beat until you get a hard meringue. Coarsely grate the marzipan and break in the seeds of the vanilla pod. Fill the tart base with meringue and spread the rhubarb pieces on top. Sprinkle 2 tablespoons of sugar on top and bake in the middle of the oven for approx. 50 minutes. Cool and garnish with icing sugar and fresh mint. Serve with whipped cream.
Read also: The best recipes with rhubarb
Juicy rhubarb cake
about. 8 servings
4–5 rhubarb stalks (approx. 200 g)
125 g of soft butter
125 g of sugar
125 g wheat flour
1 teaspoon of baking powder
2 eggs
2 tbsp cold water
sugar and cinnamon
4 tbsp chopped almonds for sprinkling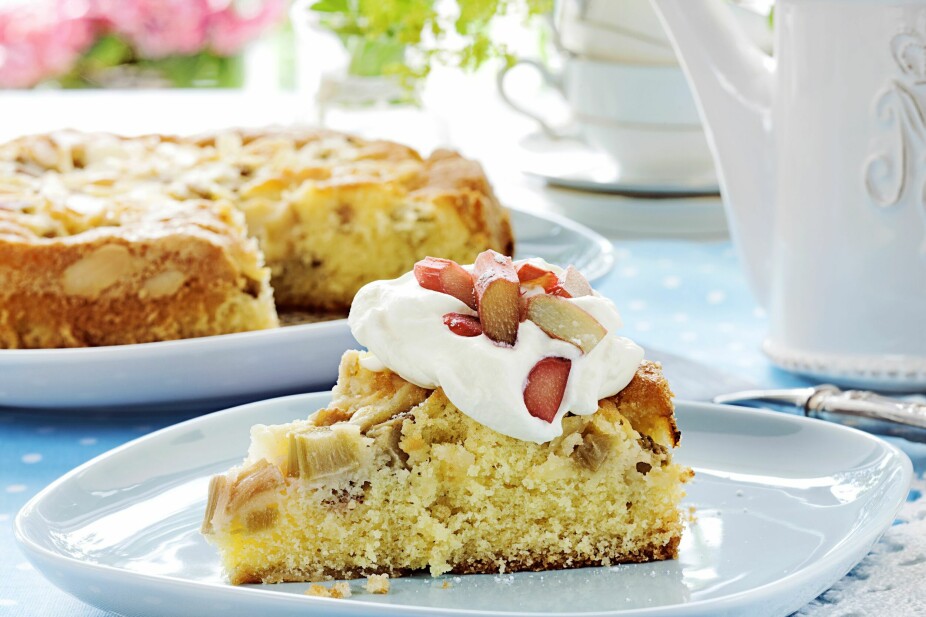 Heat the oven to 180°. Cut the rhubarb into ½-1 cm pieces. Beat the butter and sugar until white and fluffy. Beat in wheat flour, baking powder and eggs.
At the very end, cold water is mixed in. Pour the batter into a buttered springform pan. Scatter the rhubarb pieces and sprinkle with sugar, cinnamon and chopped almonds. Bake in the oven on the lowest rack with the trees for 35-40 minutes. Serve the cake warm with cream or ice cream.
Cookies with vanilla cream and rhubarb jam
16 pieces
100 g of butter
125 g wheat flour
50 g of powdered sugar
½ vanilla pod, optional
1 teaspoon of vanilla sugar
1 egg yolk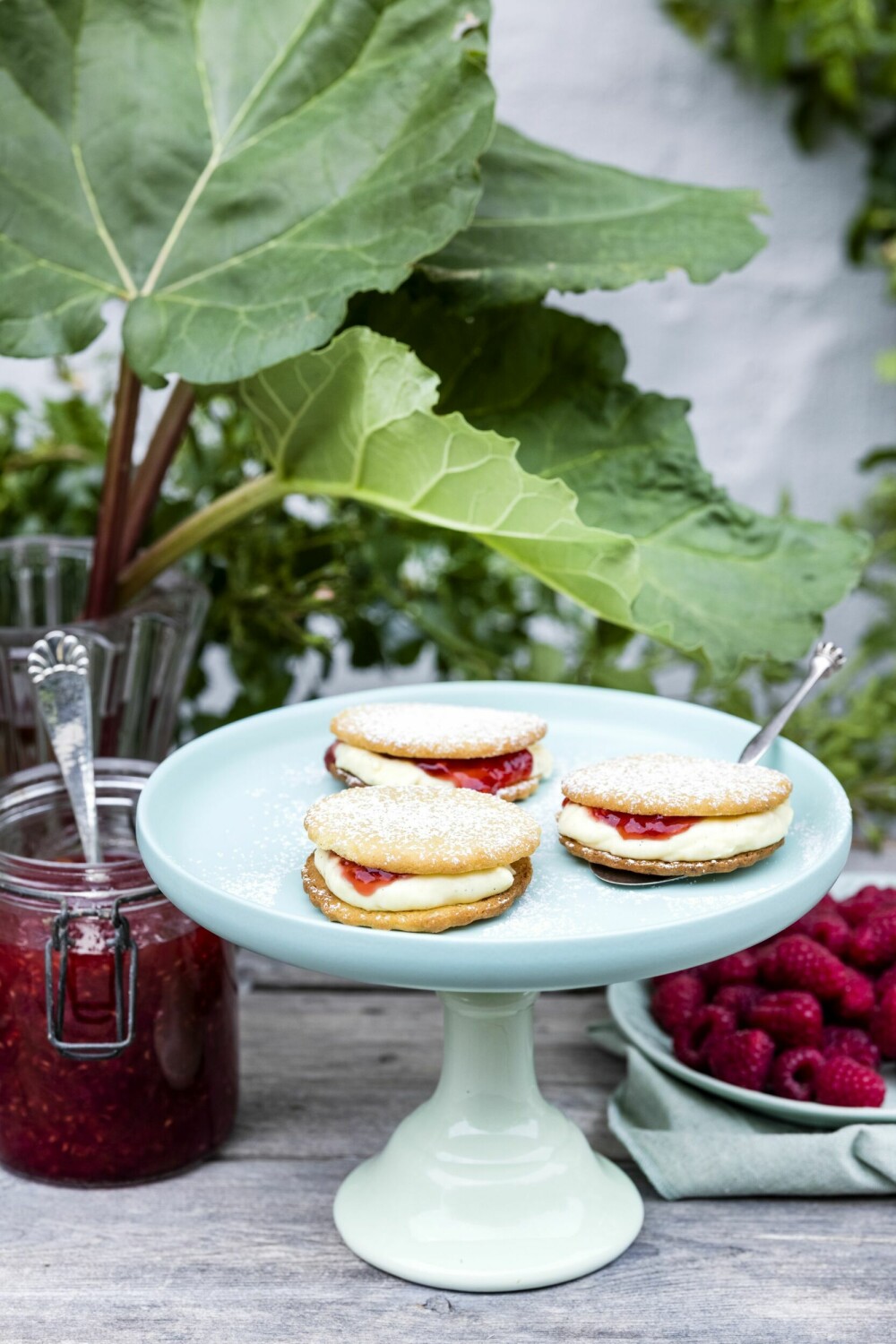 Creamy cream:
1½ dl milk
2 egg yolks
½ vanilla pod,
possible 1 teaspoon of vanilla sugar
2 tablespoons of sugar
2 teaspoons of cornstarch
1½ dl whipped cream
To serve:
1 dl rhubarb jam
See the rhubarb jam recipe here
powdered sugar
Crumble the butter and flour with the powdered sugar and vanilla bean seeds. Add egg yolk and knead into a smooth dough. Wrap in plastic wrap and leave approx. 30 minutes.
Heat the oven to 200°. Roll out the dough on a floured board, approx. ¼ cm thick and cut out 16 circles with a diameter of 7 cm. Use a cookie cutter or glass. Place on a baking tray lined with baking paper and bake in the middle of the oven for approx. 8 minutes. Be careful not to let them get too dark. Cool on a wire rack.
custard: Whisk the milk, egg yolks, vanilla pod seeds, sugar and Maizena in a saucepan. Bring to a boil and whisk until bubbly and thickened, approx. 1 minute.
Transfer to a glass or metal bowl, sprinkle with a little sugar and cool, preferably in cold water. Whip the cream until stiff and whip the cooled vanilla cream. Mix together and spread vanilla cream on half of the cookies. Add a spoonful of rhubarb jam and top with another biscuit. Sift powdered sugar on top and serve immediately.
Recipes: Kerstin Svensson, Anita Bakker and Matprat.no
Photos: Olof Abrahamsson, Svein Brimi and Getty images
This case was first published on 06/23/2022 and last updated on 06/24/2022